After a difficult phase of internal renewal within the Jewish community, Max Privorozki took over as president of the community in February 1999. He represents the interests of the community in the city and is Chairman of the State Association of Jewish Communities in Saxony-Anhalt, which is a member of the Central Council of Jews in Germany.
The Jewish community in Halle currently boasts 555 members (as of 2018, source: Central Welfare Board of Jews in Germany) as well as an active community life with numerous activities and offers for its members. These include courses for adults (sports, language classes, and more), children and youth activities, a welfare department, its own library, and the joint celebration of services and holidays.
In 2003, the community endowed the Emil Fackenheim Prize in recognition of the commitment to the Jewish community in the past and present. It has been awarded seven times to date. Among the prize winners are the theologian Gerhard Begrich, the rescuer of the community archive, Gudrun Goesecke, a school project of the Philanthropinum Dessau and the Harzgerode Secondary School, and the "March of Life" association. In 2010, the prize was awarded to the Seminar for Jewish Studies at the Martin Luther University of Halle-Wittenberg, whose professor at the time, Guiseppe Veltri, initiated the founding of the Circle of Friends of the Leopold Zunz Center, which has been organizing the Jewish Culture Days in Halle since 2013.
On October 9, 2019, the synagogue and the Turkish kebab shop "Kiez-Döner" in Halle were attacked on the holy day of Yom Kippur. Two uninvolved people lost their lives. The severely shaken city society expressed its solidarity with the Jewish community in public remembrance. Over 900 expressions of solidarity from all over the world in the form of letters, e-mails, and gifts reached the community. They were compiled in a book and presented at the unveiling of the memorial for the victims of the attack on the synagogue grounds on October 9, 2020.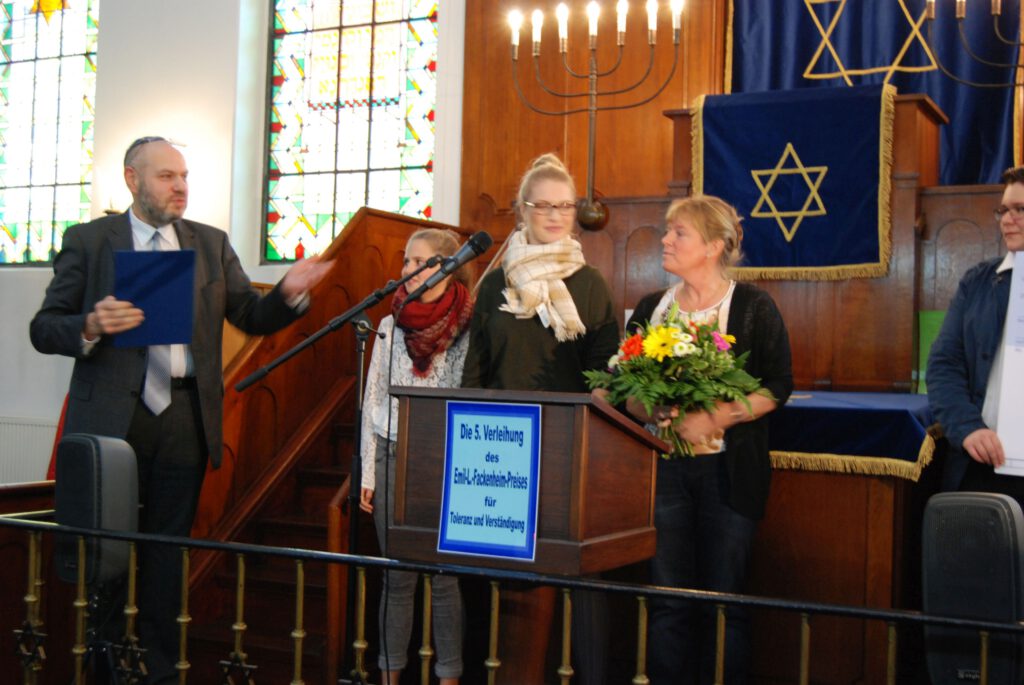 Left: Awarding of the Emil Fackenheim Prize to students from the Philanthropinum Dessau and the Harzegerode Secondary School in the synagogue in 2014. Photo: Jewish Community in Halle
Right: On the afternoon of October 9, 2020, the Jewish community unveiled a memorial in the courtyard of the attacked synagogue. At the center of the work of art is the door, which withstood the attacker's shots on October 9, 2019. The door stood strong and was still a sign of destruction, said the President of the Central Council of Jews, Josef Schuster, at the unveiling. The door with the visible bullet holes is held by an oak tree whose branches represent a hand.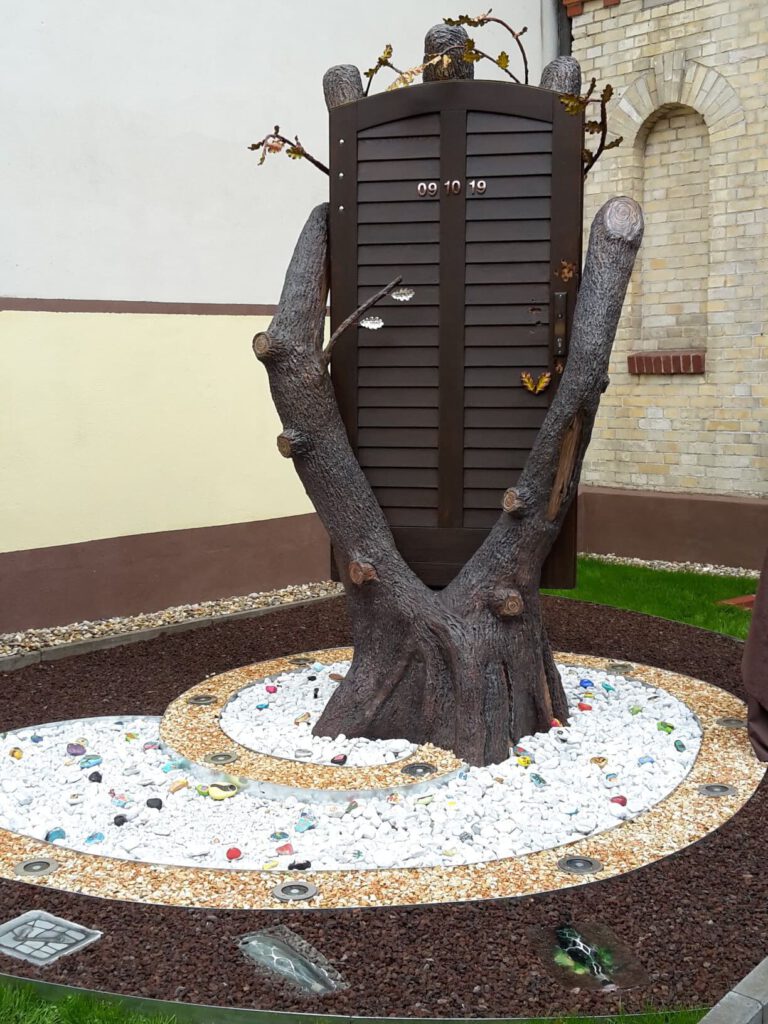 Timeline Halle