Since 1820, Jewish bathers have been recorded on Norderney. Their increasing number led to the first merchants and cooks opening shops on the island or offering kosher food during the bathing season. In 1845, the butcher Abraham von der Wall moved to the island and opened a Jewish restaurant. For Jewish bathing guests, the synagogue on Schmiedestrasse (today the restaurant "De Leckerbeck") was opened in 1878 in the presence of the Prussian Minister of Finance. Through 1933, Jewish bathers preferred Norderney, which earned the seaside resort the reputation of being a "Jewish bathing resort"—Westerland/Sylt and Heringsdorf/Usedom were described in the same way. In 1933, Norderney was to become a "German bathing resort," and after decades of acceptance and tolerance, the exclusion of Jewish bathers and residents began. The exhibition Jews in Norderney, conceived by the Norderney Municipal Archives, was intended to present for the first time to a wider public Jewish everyday life, the contribution of Jews to the development of the North Sea spa, and the measures taken to exclude and exterminate Judaism on the island of Norderney.
The exhibition was dedicated to Chaim Bar-Tikva, who spent his childhood and youth as Heinz Hoffmann on the island of Norderney, now lives in Haifa/Israel, and was the last survivor of the Norderney Jews.
The exhibition was held at the Museum Nordseeheilbad Norderney from December 19, 2006 to May 13, 2007.
Report on the exhibition in the newspaper Ostfriesischer Kurier from December 21, 2006:
"Flight to Palestine. Exhibition about Jews on the island of Norderney in the Bademuseum. The focus is on Chaim Bar-Tikva, who, in 1936, was still called Heinz Hoffmann and emigrated to Palestine.

Norderney/Ert – "It is not about guilt and atonement," remarks the Norderney city archivist about the exhibition Jews in Norderney in the Bademuseum, which has now been officially opened and will be on view through the end of April. Through January 7, interested visitors can even find out every day from 11:00 am to 4:00 pm how Jewish citizens lived on the so-called "Jewish Island" until they, too, were ostracized and exterminated. Acceptance – Exclusion – Annihilation is the subtitle.

At the opening, Friedrich Fischer, Chairman of the Förderverein Museum Nordseeheilbad Norderney, and Manfred Bätje, Norderney City Archivist, recalled that Norderney had acquired a name for itself in the nineteenth century as a "Jewish bathing resort." The inauguration of the synagogue on Schmiedestrasse (today, the restaurant Leckerbeck is located there) was even attended by the Prussian Minister of Justice.

Preferred by Jewish guests was "Hoffmann's Hotel Falk," one of the largest and best-known Jewish accommodation facilities on the German North Sea coast. The grandparents of Heinrich Hoffmann, the last surviving Jew from Norderney, had built the large hotel complex with eighty rooms roughly 100 years ago, after they had the Hotel Falk, which they had furnished in a former residential building at Bismarckstrasse 4, demolished in 1905. After the war, it was operated as the "Düsseldorfer Hof" and fell into disrepair.

Today, only historical photographs on view in the exhibition remind us of the past splendor and the destroyed Jewish culture on the island of Norderney. Bätje and the Förderverein dedicated the exhibition to Heinz Hoffmann, now known as Chaim Bar-Tikva, who celebrated his ninetieth birthday in Haifa on November 6. He was born in Schreiberhau, a small Silesian spa in the Giant Mountains, as the son of Julius and Clara Hoffmann and moved with his parents to Norderney in 1921. There, the siblings Julius, Fritz, and Johanne Hoffmann ran Hoffmann's Hotel Falk together. In 1933, Julius Hoffmann, who played an important role in Norderney's public life and administered the synagogue, was forced to resign from all public offices. As a result, the family left Norderney. Heinz Hoffmann emigrated to Palestine in 1939 and worked for an Israeli shipping company for thirty years. He never broke off contact with Norderney, however. In 2004, he was visited by Ingeborg Pauluhn, whose book on the history of Norderney's Jews forms the basis of the exhibition.

Ostfriesischer Kurier from December 21, 2006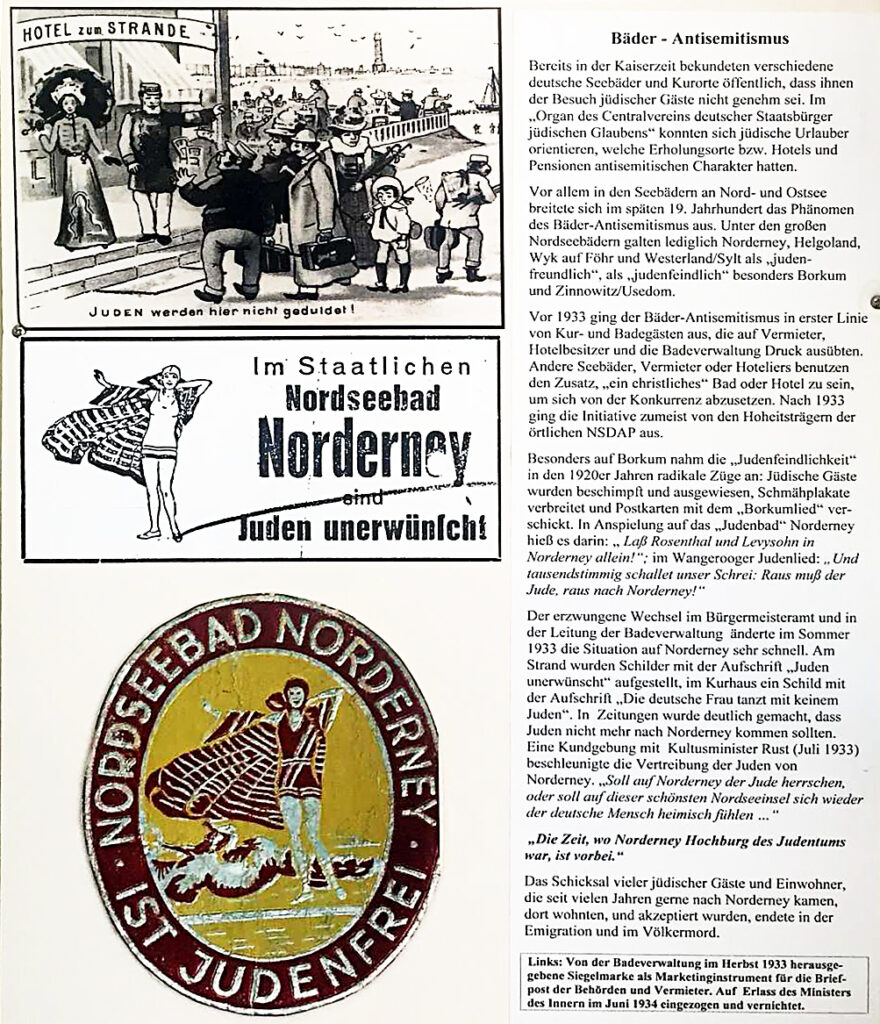 Timeline Norderney