On the basis of a citizens' petition, the Solingen-Mitte district council decided to rename Hohe Gasse as Max Leven Gasse in memory of the former cultural critic of the newspaper Bergische Arbeiterstimme, who was shot here in the pogrom night, and whose fate was in danger of being forgotten. The decision was not a foregone conclusion. The four dissenting votes of the CDU and the FDP were justified, among other things, by the fact that the NS victims were already remembered at various places in Solingen and that Max Leven had, after all, been a communist.
Four years after the successful renaming, the Neumarkt interest group demanded that name change be revoked, since the local residents allegedly continued to call it Hohe Gasse.
In 1979, a memorial plaque was also placed on the air raid shelter on Malteserstrasse to commemorate the destroyed synagogue that had stood on this site. Students from the neighboring grammar school on Schwertstrasse had collected signatures for a petition to these ends.
It was only in 1991 that the city of Solingen erected a gravestone for Max Leven in the Jewish cemetery after a working group of the Solingen Comprehensive School had located his grave.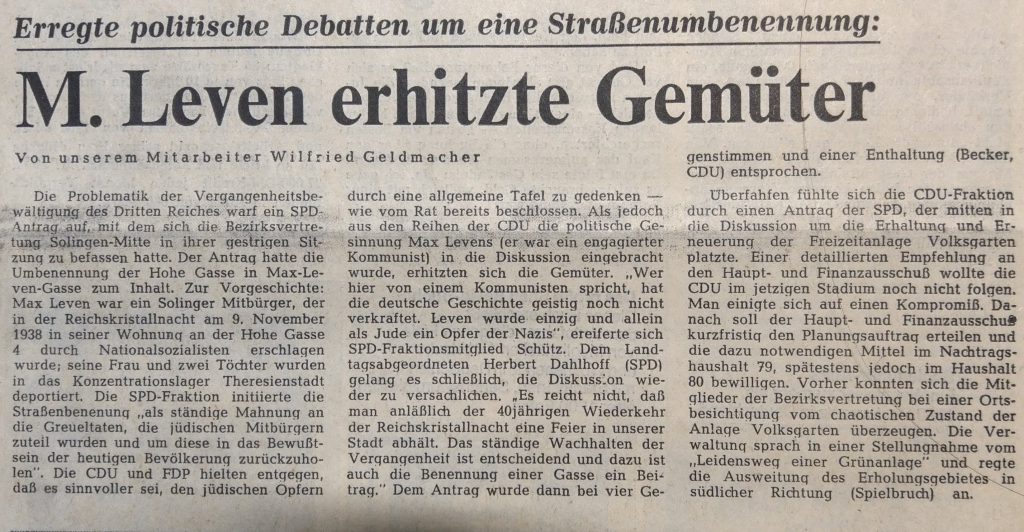 Timeline Solingen