Excerpt from a letter from the Norderney municipal council to the district president in Aurich, dated September 23, 1933:
"… The attitude towards the Jews has caused Norderney tremendous damage. Thousands of German guests who used to come here for spa treatments have stayed away from the island because of the unbearable number of Jews. Many who do not even know Norderney have refused to come here because of the Jews. For Norderney was not only in Germany, but also in other European countries, discredited as a Jewish spa. A responsible administration should have recognized the danger and put a stop to it. …"
In a press release dated December 1933, the spa administration announced that Jewish spa guests on Norderney were "not welcome." "If Jews should nevertheless try to find accommodation in Norderney next summer, they themselves are responsible. In the event of friction, the spa administration will have to expel the Jews from the island immediately in the interest of both the spa and the German spa guests present."
With the campaign "Norderney Judenfrei," the SA also attempted to keep Jewish spa guests and residents away from the island or to expel them.
In 1937, a legal regulation followed which made it virtually impossible for Jews to go to a spa resort; thereafter, they were to be admitted only to those resorts where they could be accommodated separately from the other guests in "closed Jewish guest houses."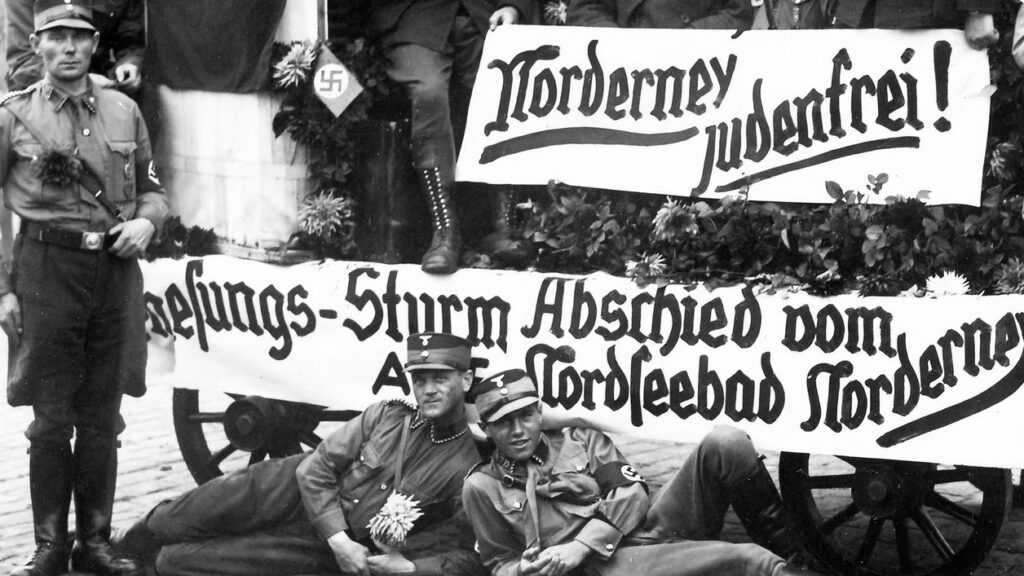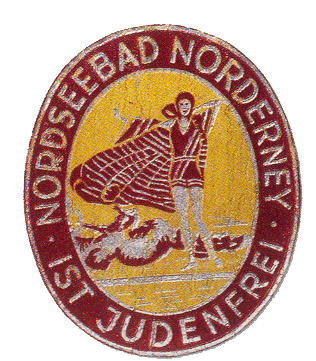 Left: SA vacationers say goodbye to three Bavarian SA men. "Norderney is free of Jews" – this statement was not true. It was not until 1941 that the last Jewish residents had to leave the island. Photography, 1933. Image: Norderney City Archives; Right: With the "Norderney jew-free" campaign, the SA also tried to keep or expel Jewish spa guests and residents from the island, Norderney City Archives.
Timeline Norderney