Six months after a criminal complaint was filed on August 24, 1946, initial investigations were initiated against the perpetrators of the November 1938 pogroms. In February 1947, the Communist newspaper Freiheit pointed out in an article titled "The Murderer Is Among Us" that one of the men who had been involved in the murder of Max Leven had been seen again in Solingen. The presumed main perpetrator, Armin Ritter, was arrested in 1947.
On January 14, 1948, the trial for the synagogue arson and the shooting of Max Leven began in Wuppertal. It was, however, already adjourned after one day of trial. Armin Ritter was first to be examined to determine his mental state. The trial was not continued until July 21, 1949.
The verdict was announced the following day: Armin Ritter, who had fired the fatal shots at Max Leven, was sentenced to three years in prison for crimes against humanity in coincidence with manslaughter, since there was allegedly limited responsibility due to "pseudobulbar affect." Ritter had suffered a fractured skull in 1930. The other parties involved were sentenced to two or one and a half years imprisonment, while the former provisional mayor Rudolf Brückmann was acquitted.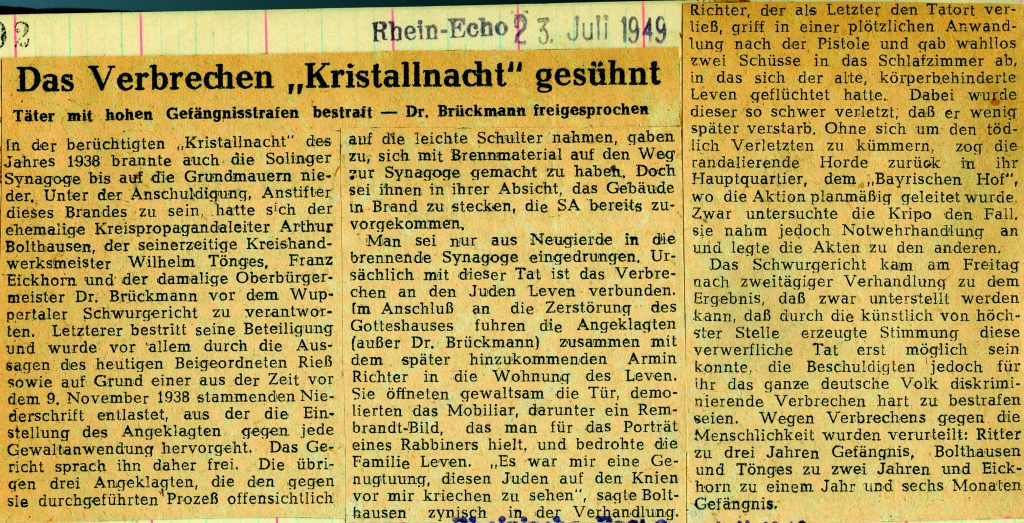 Timeline Solingen