On the occasion of the seventy-fifth anniversary of the liberation of the Auschwitz concentration camp, the German Bundestag continued its cooperation with the Center for Persecuted Arts, and both the MOCAK, represented by the curator Delfina Jałowik, and the German public broadcaster ARD now participated under the auspices of the Rundfunk Berlin-Brandenburg (rbb) with the project Auschwitz and I. The Art of Remembering. The project What can each individual do? in the context of Auschwitz and I was initiated by Christine Thalmann and Julia Riedhammer.
The life of the painter David Olère was portrayed in a multilayered manner on the Internet site auschwitzundich.ard.de. He was one of the few prisoners of the so-called Sonderkommando (Special Unit) who survived the concentration camp and the war, and at the same time the only one who recorded these experiences in paintings and drawings. The Center for Persecuted Arts realized the art exhibition David Olère. Survivor of Crematorium III in the German Bundestag in cooperation with the Auschwitz-Birkenau State Museum. The curator and co-curators of the exhibition were Agnieszka Sieradzka of the Auschwitz-Birkenau State Museum, Marc Olère, and Serge Klarsfeld.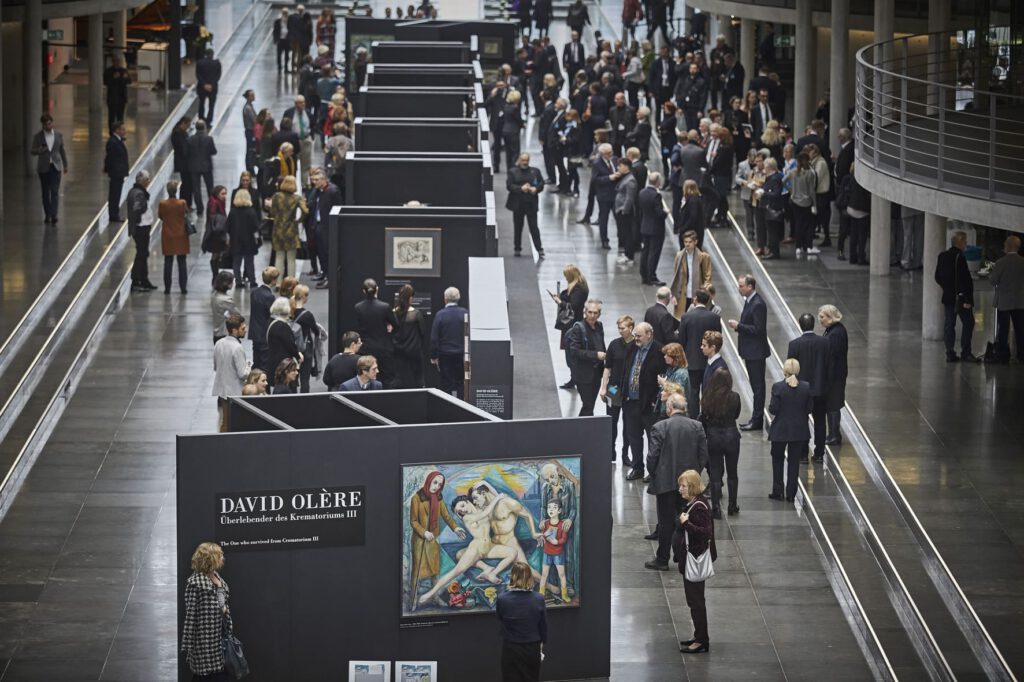 The site auschwitzundich.ard.de contains interviews with the artist's grandson, Marc Olère, as well as with contemporary witnesses, including Yehuda Bacon, Serge and Beate Klarsfeld, staff members of the Auschwitz-Birkenau Memorial, young people, and politicians from Poland, Israel, France, and Germany, conducted and recorded by the rbb. All of them tell their own stories and talk about how they dealt with the Shoah. The interviews that the rbb conducted as part of the multimedia project Auschwitz and I were part of the exhibition in the Bundestag.
Timeline Statements